The tech mobility and start-up event runs 15-16 June at the ExCel and brings together a prestigious line-up of speakers, alongside an exhibition featuring organisations at the heart of urban mobility transformation.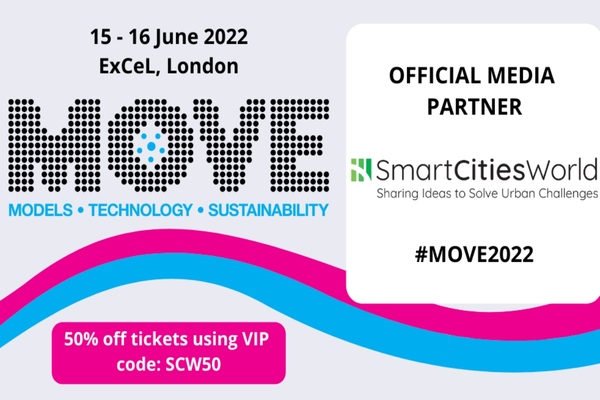 The tech mobility and start-up event MOVE returns as an in-person show at the ExCeL London this week, running from 15-16 June.
The event has built a strong track record in showcasing the latest mobility trends and developments from around the world. Its return will be marked by a prestigious line-up of speakers and an exhibition of companies and organisations at the heart of building and delivering the future of urban mobility.
Mobility start-up village
MOVE will also feature the MOVE Start-up Village, a global stage for more than 150 of mobility's most exciting start-ups engineering the future, and connecting them with the world's most influential companies, investors and media.
SmartCitiesWorld is the exclusive sponsor of the event's smart cities stream, which runs across the two days. SmartCitiesWorld senior editor Luke Antoniou will be interviewing City of Atlanta chief equity officer and executive director, Qaadirah Abdur-Rahim, on the subject of developing an ecosystem to drive equitable and smart cities.
"Our industry is changing at an explosive rate – now is the time to be a part of that change"
He will also be moderating the panel discussion: Electric charging points and cycle lanes: what is appropriate allocation of road space?, where he will be joined by Glynn Barton, network management director, Transport for London (TfL), Richie Sibal, co-founder, ZipCharge, and Alan Clarke, senior director, public policy, Northern & Eastern Europe, Lime Bike.
Other cities represented over the two days include Dublin, Hull, Milan, Prague, Vilnius and Zurich.
"Our industry is changing at an explosive rate – now is the time to be a part of that change," said MOVE project director Cormac Martin. 
"He added: "We look forward to welcoming back our industry colleagues and friends as we look once more to the future and all the promise and excitement that new technologies and solutions will bring."
The audience will be a cross-section of the global mobility market and 2022 will see thousands of attendees joining from original equipment manufacturers (OEMs), transport operators, technology companies, energy companies, fast growing start-ups, policymakers and more.
The speaker line-up includes senior VPs and C-level representation from Aurora, Toyota, FREE NOW, NIO, Lyft, City of Zurich, Superpedestrian, Pronto.ai, Ford Motor Company, EnergyX, Nikola, Arriva, Volvo Group, WalkSafe, Go-Ahead Group, Wejo, Department for Transport, Dott, Afreecar, Financial Times, BBC, WWF and more.
The packed conference schedule will cover topics including the latest tech designed to reduce emissions and congestion, cutting-edge transport technology, the future of the personal vehicle, sustainable living, the future of the cityscape, ride-sharing and multimodality, the new regulatory landscape and more.